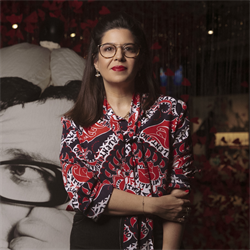 Alber Elbaz: Secrets from the Dream Factory
Alber Elbaz: Secrets from the Dream Factory
How does the life story and extraordinary work of a once-in-a-generation designer become an exhibition that has a message for the future of us all?
Ya'ara Keydar, the curator of Alber Elbaz: The Dream Factory, gives an exclusive look behind the scenes of the new exhibition. Together, we will embark on a journey through the personal and professional world of Alber Elbaz, the most successful Israeli designer of all time. As we traverse between Morocco, Holon, New York, and Paris, we will get to know his work and rare worldview. This event will be in Hebrew.
Photo Credit: Saar Pesach
סודות ממפעל החלומות איך סיפור חייו של מעצב יחיד בדורו ועשייתו יוצאת הדופן הופכים לתערוכה שיש בה מסר לעתיד של כולנו? יערה קידר, אוצרת התערוכה, מעניקה הצצה בלעדית אל מאחורי הקלעים של התערוכה החדשה. נצא יחד למסע בעולמו האישי והמקצועי של אלבר אלבז, המעצב הישראלי המצליח בכל הזמנים. בין מרוקו, חולון ניו יורק ופריז, נכיר את יצירתו ואת תפיסת עולמו הנדירה. הארוע יתקיים בעברית.