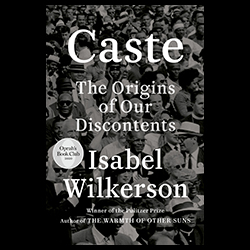 What Everyone's Talking About with Abigail Pogrebin: Isabel Wilkerson, Caste
What Everyone's Talking About with Abigail Pogrebin: Isabel Wilkerson, Caste
Join us for a conversation with Pulitzer Prize--winning author Isabel Wilkerson about her acclaimed book Caste: The Origins of Our Discontents
In her latest book, named the #1 Nonfiction Book of the Year by Time, the best-selling author of The Warmth of Other Suns examines the caste system that has shaped America, and shows how our lives today are still defined by a hierarchy of human divisions.
Isabel Wilkerson, winner of the Pulitzer Prize and the National Humanities Medal, is the author of the critically acclaimed New York Times bestseller The Warmth of Other Suns. Her debut work won the National Book Critics Circle Award for Nonfiction and was named to Time's 10 Best Nonfiction Books of the 2010s and The New York Times's list of the Best Nonfiction of All Time. She has taught at Princeton, Emory, and Boston Universities and has lectured at more than two hundred other colleges and universities across the United States and in Europe and Asia.
Conversations at the JCC are made possible by Zabar's and Zabars.com and with generous support from the Laurie M. Tisch Illumination Fund.
Co-sponsored by The Lambert Center for Arts + Ideas, The Joseph Stern Center for Social Responsibility, and B'nai Jeshurun.