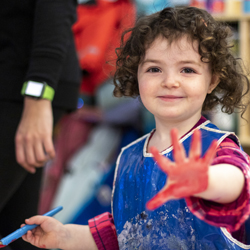 Toddler Art Adventures - Outdoors in Riverside Park
Toddler Art Adventures - Outdoors in Riverside Park
Age range
18 months - 2 years 6 months
-
Taught by Private Picassos, budding toddler artists will explore paint, crayons, oil pastels, collage materials, air-dry clay, and recycled sculpture in this process-oriented art class. Themes for projects include NYC, outer space, animals, opposites, and much more. This curriculum is a great introduction to a structured class for young artists and will help strengthen their fine motor skills and ability to represent the world around them.
The class will take place on 78th Street in Riverside Park.
8 Thursdays, Apr 15-Jun 3
As we introduce outdoor classes, please familiarize yourself with the JCC's health and safety protocols listed below.
- Before each class, parents must complete this health declaration. This should be completed in advance of class, on the same day as their class.
- Masks are required for adults, children over 2, instructors, and any support staff present.
- There will be temperature checks upon arrival.
- An emphasis will be placed on hand hygiene before and during programming.
- There will be a thorough cleaning of equipment with nonhazardous disinfectants between classes.
- Group sizes will be smaller to help ensure social distancing.
Upon arrival at class:
- Caregivers will need to show the instructor their completed health declaration confirmation.
- Temperatures will be taken.
- Sanitizer will be given to all participants.
 
In the case of inclement weather, we have designated the week of Jun 6-11 for makeup classes. If more than one class session is affected by the weather, virtual makeups will be held instead. We cannot offer any refunds should this occur.
For more information, please contact Yael Kahn Pinto (ykahnpinto@mmjccm.org).