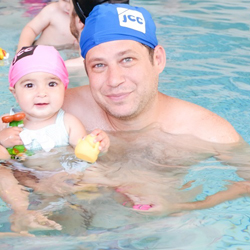 Summer Bubbling Babies 6-12 Months Section 3
Summer Bubbling Babies 6-12 Months Section 3
Age range
6 months - 12 months
-
Introduce your child to the wonders of the water in the JCC's warm, adjustable-depth training pool. Through creative songs, games, and skill-building activities, our classes teach essential swimming fundamentals such as breath control, arm movements, kicking, and floating. In addition to many developmental and social benefits, early swim lessons foster comfort and confidence in the water. Impeccable safety standards are modeled and taught both in an around the pool. Parents/caregivers learn the proper techniques to ensure ongoing development and a lifelong love of swimming!
Enjoy an introduction to the water in this class full of lively songs and water exploration. Classes will focus on comfort, breath control, verbal swim cues, skill demonstrations and safety in and out of the water.
Summer registration opens May 10 at 9am for Members and May 19 at 9am for the general public.
Please note that group swim classes will operate at limited capacity in accordance with health and safety protocols. To learn more about the JCC's Covid operating protocols, please visit our reopening webpage and refer to Aquatics Policies + Procedures.
To learn about our Membership options, please email membership@mmjccm.org