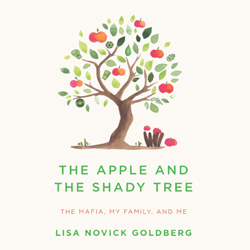 Book Talk: The Apple and the Shady Tree—The Mafia, My Family, and Me
Book Talk: The Apple and the Shady Tree—The Mafia, My Family, and Me
This program will be conducted virtually. A link for the virtual classroom will be sent to you ahead of the program.

They say that the apple doesn't fall far from the tree, but what if your family tree is linked to the Mafia? Join us for an evening with Lisa Novick Goldberg, who will discuss her memoir, The Apple and the Shady Tree–The Mafia, My Family, and Me, about how her familial relations to the Mafia profoundly shaped her life. In her memoir, Goldberg explores the veracity of the well-known proverb by examining her complicated relationship with her father, whose closest friends happen to be bosses of the Genovese crime family. Radio host, writer and author Amy Guth will interview Goldberg.

We are proud to continue to offer virtual programming such as this for free or at low cost. If you are able, please consider making a gift to support the JCC. Every dollar counts.